ETIENNE BOUET ET MATHIEU CLAUDON
Etienne Bouet est né en France en 1977, où il vit et travaille
Mathieu Claudon est né en France en 1977, où il vit et travaille
Etienne Bouet et Mathieu Claudon sont venus à l'art par leur pratique du skateboard. Cette discipline autrefois à la marge a su créer des ponts avec de nombreuses autres pratiques, la transformant en une véritable culture en dialogue constant avec la photographie, le graphisme, la peinture, le mouvement et bien sûr l'architecture. Ayant participé à cette culture depuis leur plus jeune âge, Etienne & Mathieu s'inscrivent dans cette lecture pluridisciplinaire de l'espace urbain et dans sa réécriture artistique. A travers leurs images, la ville apparaît comme un entassement de blocs géométriques et devient rapidement un gigantesque terrain de jeu.
Le duo que forment Etienne & Mathieu a pour point de départ leur passion pour le skateboard, qu'ils explorent en tant qu'objet par la photographie et la peinture. Rapidement, leur travail s'éloigne du skate pour s'emparer d'autres sujets afin de questionner les formes, les volumes, l'architecture et la circulation dans l'espace urbain.
Le cadrage en plan large des photographies de Mathieu Claudon permet d'englober les skateurs dans leur contexte. Etienne Bouet intervient ensuite sur les tirages de ces photographies. Par la peinture, il en efface des parties afin de mieux révéler la perspective, les lignes de force et les volumes. Les couleurs et les formes qu'il applique par-dessus l'image photographiée en exacerbent aussi certains attributs. Le résultat donne une image où la peinture vient tantôt effacer, tantôt souligner certains aspects de la photographie, afin de faire éclore un nouveau sujet par la mise en scène du regard.
Depuis 2016, Etienne & Mathieu exposent régulièrement leurs travaux en France et aux Etats-Unis. Leurs séries de photographies peintes ont été reconnues à la fois dans le monde du skateboard et dans celui de l'art contemporain.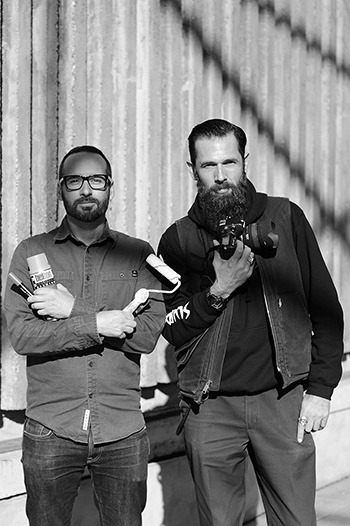 Etienne Bouet was born in France in 1977, where he lives and works
Mathieu Claudon was born in France in 1977, where he lives and works
Etienne Bouet and Mathieu Claudon came to art through skateboarding. While once marginal, skateboarding has bridged many other practices, transforming it into a culture in constant dialogue with photography, graphic design, painting, movement and of course architecture. Since they participated in this community from a young age, Etienne & Mathieu are shaped by this multidisciplinary approach to reading the urban landscape and rewriting it artistically. Through their images, the city appears as a stack of geometric blocks and quickly becomes a gigantic playground.
The duo formed by Etienne & Mathieu was born from their shared passion for skateboarding, which they explore as an object through photography and painting. Quickly, their work moves away from skateboarding to capture other subjects in order to question shapes, volumes, architecture and circulation in the urban landscape.
The large-scale framing of Mathieu Claudon's photographs allows the skateboarders to be seen in their context. Etienne Bouet then intervenes over the printed photographs. With paint, he removes parts of the scene to better reveal perspective, strong lines and volumes. The colors and shapes he applies over the photographed image also enhance certain attributes. The paint partly erases the image, while also emphasizing certain aspects of it, ultimately giving birth to a new subject by staging our perspective.
Since 2016, Etienne & Mathieu regularly exhibit their work in France and the United States. Their series of painted photographs have been recognized both in the world of skateboarding and contemporary art.
CV
SELECTED SHOWS
2020
● Unconcrete Architects, Circylar Gallery, Berlin
2019
● Memory, Bim Bam Gallery, Paris
● Unconcrete Architects New York, 98 Orchard Gallery, New York, USA
● Unconcrete Architects Prints, Cal's Pharmacy, Portland USA
● Behind Unconcrete Architects, Vagues et Béton, Médiathèque Labarrère, Pau, France
● It's all about the lines, Platano Rock Festival Multidisciplinaire, Tenerife, Spain
● Unconcrete Architects, Galerie J De Vos, Paris
2018
● Unconcrete Architects (portraits), Black Shop, Paris
● Ride for Mongolia, Crush Walls Art Festival, Denver, USA
● Unconcrete Architects (portraits), Artride Art Show, Pasaia San Pedro, Spain
● Du Skateboard à l'Art contemporain, Bibliothèque, Vauréal, France
2017
● Du Skateboard à l'Art contemporain, Le Phare, Limoges, France
● Red XV (Espace Seven/Galerie Jacques De Vos, Paris
● Red XV bêta, Les Ateliers, Paris
● Paris, Skate in the City, Eyrolles, Paris